I cannot think of a subject area, or class, in schools today in which we are not working with learners on articulating thinking. We regularly ask learners of all ages to put forth an idea then explain their reasoning in support of that idea. In English Language Arts we might ask readers to say what kind of person they think a character is, and use evidence from the book to explain why they think that. In Science classes we ask learners to form a hypothesis then use observations and data to prove their hypothesis correct or incorrect. In Social Studies we might ask learners to argue why a particular historical figure was a strong leader. In art and music classes we ask artists and performers to critique works and performances, using observations and knowledge of technique to support their judgements. I'm sure you've thought of an example from other contents in which learners are expected to share, or exchange, ideas and why they hold those ideas. This is very important work, and sometimes difficult work.

Choice in learning is an essential element of the Applied Learning philosophy. When learners have a say in the what, where, when, and how of their learning both engagement and autonomy flourish. Sometimes when we start thinking through choice in the learning environment our minds swing to the extremes. We imagine a place where the learners direct everything.
Powered by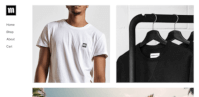 Create your own unique website with customizable templates.